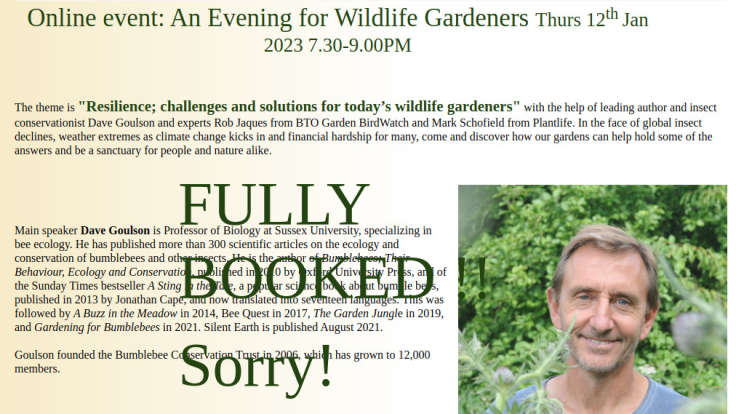 An Evening for Wildlife Gardeners online, with Dave Goulson, Thurs 12th Jan 2023 7.30-9.00PM
Notes from this evening, in a very notish format! I make no apologies.
Steve Head
started 2005 English Nature
launched manifesto 2007
underpinned by strong science
registered charity 2014
entirely volunteer run
Dave Goulson
Set up Bumblee Conservation Trust
Insects 1.1m species, about 70% of all species
Could be 3-4m more species
22m gardens, 400,000 hectares
A network of nature reserves
8% UK gardens have plastic grass
Quantifying the attractiveness of garden flowers for pollinators - paper
3 natives

Origanum vulgare
Echium vulgare
Centaurea scabiosa
Question What effect will 3.5C have on insect populations?
Answer: speed of change & habitat loss means, inhospitable farmland No bumblebees any moreAnswer, no more bumblebees in the UK.
Rob Jaques
British Trust for Ornithology
Garden Bird Watch
Mark Schofield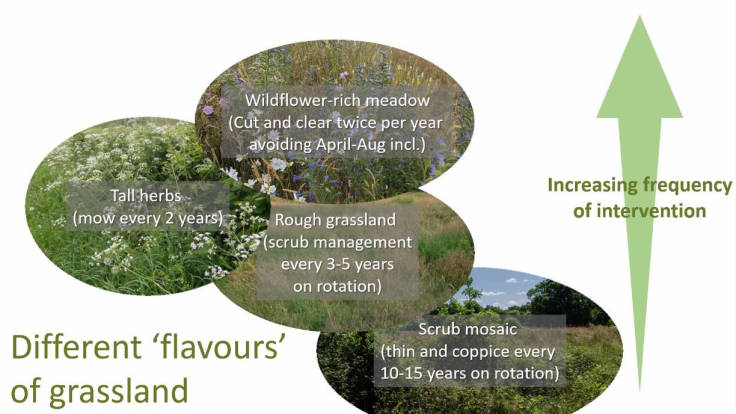 Dedicated to wild plants & fungi in natural habitats
Grasslands
Plantlife - Managing grassland road verges - best practise guide
500,000 ha urban gardens
If 25% is lawn, 125,000 ha
Mosaic garden

scrub mosaic coppice 10-15
Rough grassland

meadows.plantlife.org.uk

Cut 3-4 times per year
restorative phase late
meadow cuts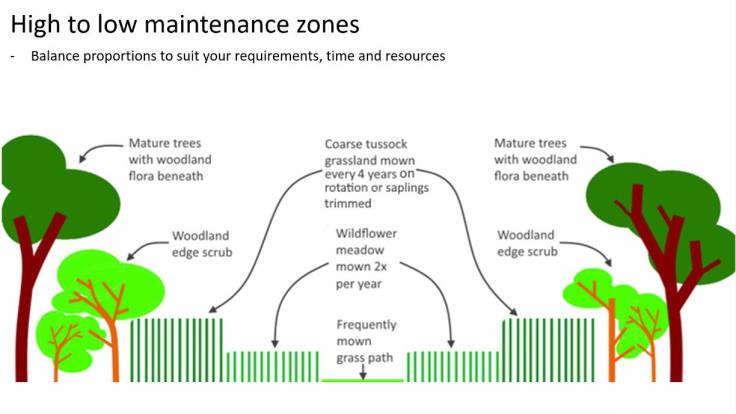 Links
http://www.wlgf.org/birds_intro.html https://www.gardenwildlifehealth.org/ https://www.bto.org/understanding-birds/birdfacts https://www.sussex.ac.uk/lifesci/ebe/dopi/ https://link.springer.com/article/10.1007/s10841-019-00177-3