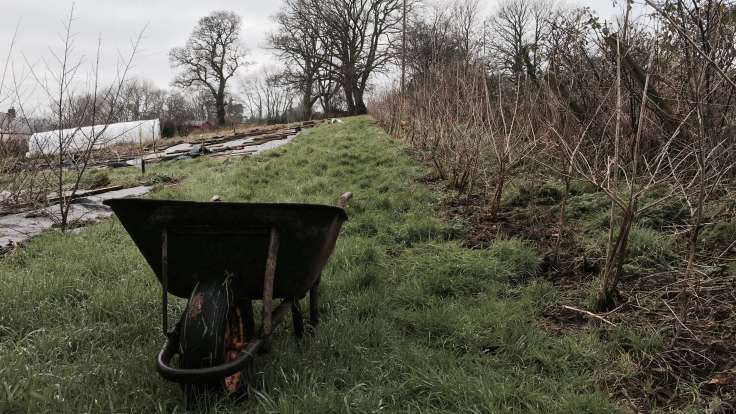 A mixed species north boundary windbreak hedge has grown on leaps and bounds
Two years ago, we planted a 90 metre windbreak hedge along the north boundary of the forest garden with a mix of four species:
The biggest surprise is that the Elaegnus has done really badly, they've all pretty much died off. The Amelanchier has seen the most robust growth, now well over 2 metres high, and the Viburnum and Hippophae have done pretty well too.
I thought that it would be the Hippophae that would struggle the most with the wet soil but no, it's perfectly happy.
What is strange is that a named variety of Elaegnus umbellata, 'Newgate' from Agroforestry Trust which is just a bit further down the field has done really well – vibrant green shiny foliage and plenty of growth. Indeed, I've taken quite a few cuttings from it last autumn.
Whilst removing tree protectors and replanting the gaps with Hippophae rhamnoides, this idea of diversity is the one that really struck home. I had considered planting all Elaegnus umbellata, and I'm very glad I didn't. The other idea is that Amelanchier seem do well, so I've planted an Amelanchier alnifolia 'Obelisk' as well.
The other thing about maintenance work is that you notice yet more maintenance work: the gap between the hedge and the fence needs mulching, and some fence posts need replacing!