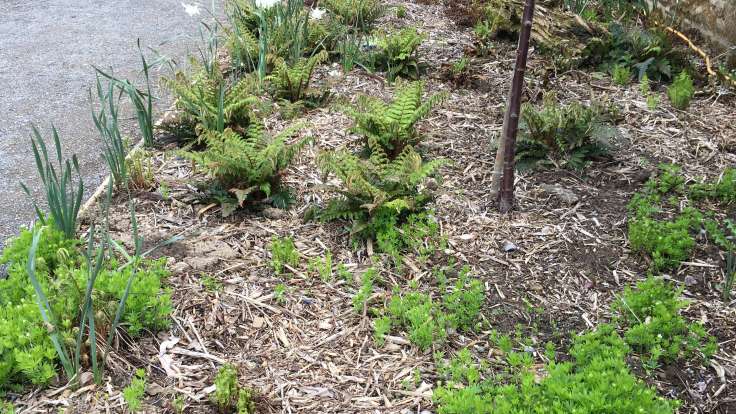 Many people believe that woodchip applied as a mulch around plants can tie-up nitrogen and cause deficiencies. Apparently not!
I'm a big fan of Martin Crawford and all he has done to promote the understanding and practise of forest gardening. But as it is forest gardening, there are obviously some opinions that are debatable, and woodchip as a mulch around living plants is one of them. He states:
Woodchip causes a nitrogen deficiency if used as a mulch around living plants
pp306, Creating a Forest Garden
I went to visit a chap called Stefan Cartwright who lives locally and who's planting up a large site with coppice and a forest garden. He swears by woodchip mulch, and showed me some used on a willow coppicing area, with healthy plants and rich, worm-filled soil underneath.
So, I did some research on that there internet, and I found Linda Chalker-Scott's excellent work on busting horticultural myths over at Washington State University. I love a good evidence-based opinion. In an article entitled "Wood chip mulch: Landscape boon or bane?" in the 2007 issue of Master Gardener magazine, she states:
Concern: Wood chip mulches will tie up nitrogen and cause deficiencies in plants.
Evidence: Actually, many studies have demonstrated that woody mulch materials increase nutrient levels in soils and/or associated plant foliage.
So, it's fine to use woodchip as a mulch around living plants, although she advises against using it in annual beds where the plants have very shallow and limited root systems.
This opens up a lot more possibilities, as I would imagine arborist wood chip is far more readily available than bark. Also, we have a lot of woody material from hedges and general gardening, and it's far more efficient (and cheaper!) to chip this on-site than to bring in material from outside.
This also means that I'll have more mulching material available so that I can re-use the 1 metre plastic sheet mulch in the coppice and replace it with woodchip. Everyone's a winner 🙂.