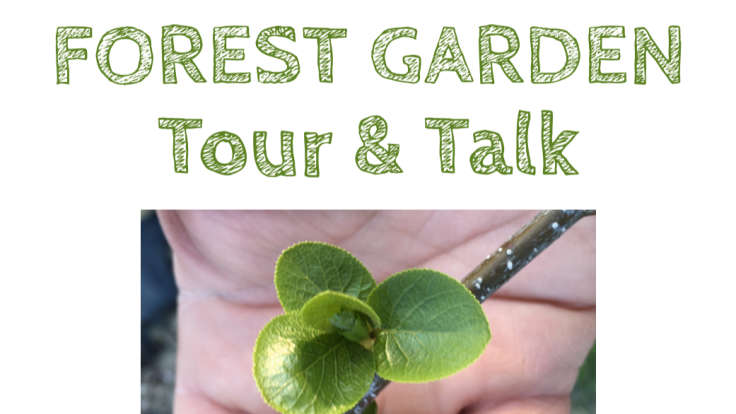 Forest Garden Wales is now open for tours by individual members of the public. Tickets on Eventbrite 🙂
We've taken the plunge and opened up the forest garden tours for individual members of the public to come along, rather than just taking group bookings.
First Saturday of the month, May to September inclusive, here are those dates in full:
Saturday 5th May
Saturday 2nd June
Saturday 7th July
Saturday 4th August
Saturday 1st September
Please book in advance, tickets from Eventbrite, £10 each.
This is a bit risky, as in we're not expecting vast numbers of people (the first Saturday is coming up already!) but it is an opportunity to spread the word about forest gardening, and all the benefits. If you're not sure what those benefits are, I will put them into buillet points for you:
Less maintenance. No, really, less maintenance. A forest garden isn't a miracle cure but by the very design (perennials, ground cover, self-fertilising) they are less maintenance. Doesn't that sound attractive?
Less grass. This is actually the same as above. But, there is generally less grass in a forest garden, just some paths. And less grass means… less mowing. That's right, even less maintenance.
More wildlife. Everybody likes wildlife. Wildlife likes wildlife, particularly for lunch. And forest gardens are, by nature, wildlife-friendly. There's a great diversity of permanent cover and plant species, in different layers (trees, shrubs, ground cover). And diversity encourages wildlife.
Stuff you can eat. It's like foraging in your own back garden, without having to ask the landowner's permission (because you are the landowner).
Stuff you can use. Things like wood, poles, twine, dyes, herbals…
Do come along if you're in West Wales, and I'll expound upon these bullet points for at least 3 hours. Whilst walking. Here's a link to the tickets again:
forestgardenwales.eventbrite.co.uk
Thank you 🙂