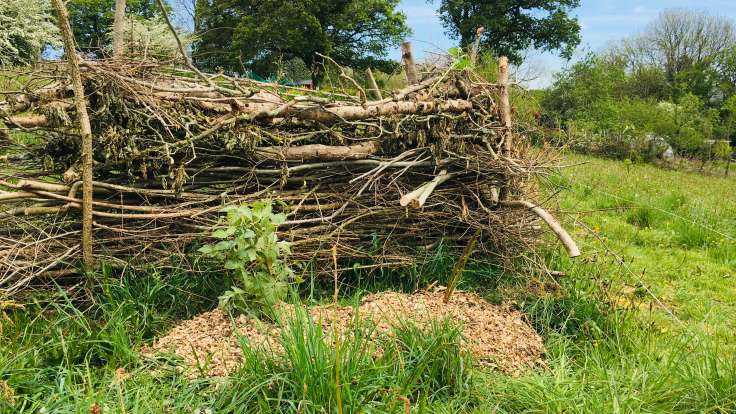 A fedge (or dead hedge) can have many uses, one of which is as a support for scrambling soft fruit like the Tayberry.
At the end of my Introduction to Forest Gardening talk at Llechryd Gardening Club, the Club Secretary Lynda kindly offered some Tayberry bushes, suggesting that they would grow well on the south side of the dead hedge.
I have previously waxed lyrical about the benefits of a dead hedge: it provides shelter for weakly plants, uses up material from cutting a hedge and provides for wildlife. Now I discovered that it can be a support for climbing plants! Fantastic, there seems to be no end to the joy a dead hedge can bring.
I was planning on planting some thornless blackberry but the Tayberry (a cross between a blackberry and a raspberry) is ideal as well, the ones Lynda has donated are a) thornless and b) free!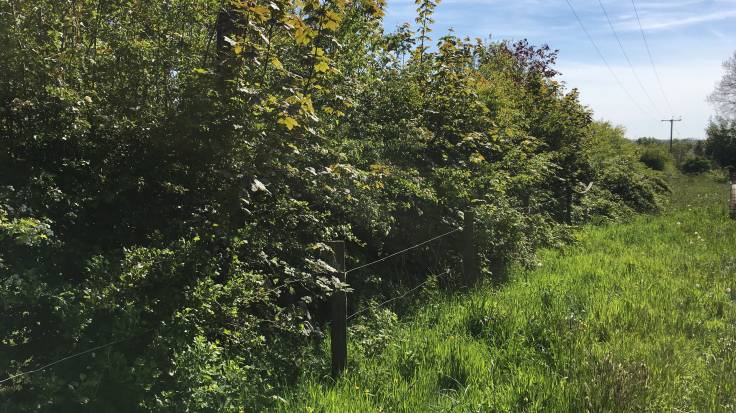 You can also plant thornless ramblin' Rubus up the south side of a windbreak hedge, just as Lynda has done with hers in the photo above. My favourite hedge to do this with is Juneberry and Guelder Rose, as they're both on the same thornless tip, makin' pickin' easier.