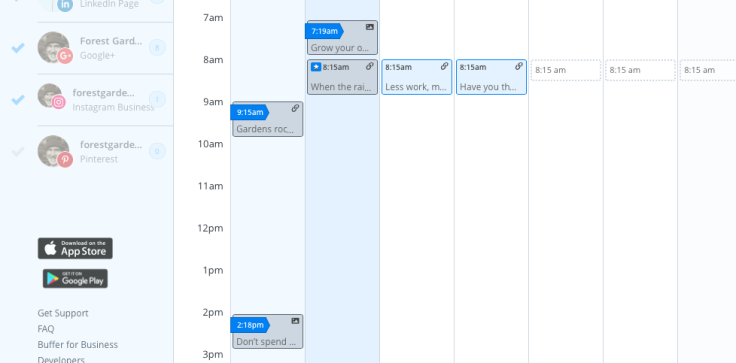 Is bulk auto-scheduling akin to spam, or is it a useful tool for promoting your blog?
I have a love/hate relationship with social media. On the one hand, it has opened up completely new gardening and wildlife worlds, via groups such as #GdnBloggers. On the other, it has aided & abetted Donald Trump and Brexit.
But forest garden courses and design services don't promote themselves, so I have taken to bulk auto-scheduling my blog posts. This simply means that I write a single blog post once a week, then using a 3rd party service, I schedule multiple social media posts at predefined times linking to the original article.
The service I use is called Buffer (together with Bulk Buffer). It costs about £12 per month, which is fairly pricey, though considering that most of my work comes from my website, it's a reasonable cost. There are similar services such as Hootsuite, Crowdfire, Stacker and dlvr.it.
I found out such things existed after going on a free Business Wales social media workshop, ably run by Angus from Web Adept.
The other key takeaway from the workshop was to host all your blog content on your own website and then syndicate to your social media platforms. This way, you keep control of your content. Otherwise, the social media platform can simply change it's terms & conditions, and you won't be able to access your content any more. This happened to me with Flickr – I have over 2,000 photos on the service, and they recently announced they were limiting their free service.
This way of controlling your content is called Publish Once, Syndicate Site Elsewhere, and the good news is that it's easy to do with hosted WordPress.com sites and fairly easy to do with self-hosted WordPress sites using eg Social Network Auto-Poster. For my bespoke website, I use a free service called IFTT.
But… I do have misgivings, whether people might see it as some sort of spamming. Personally, I like to get reminders from people that I follow, particularly because of the linear, time-based nature of social media posts. Maybe some people will find it irritating. This is the nature of the experiment!