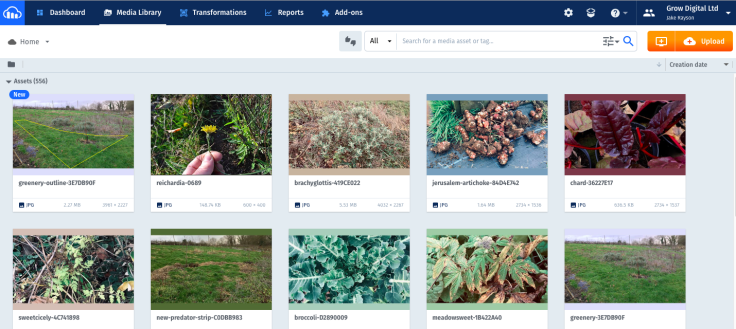 One for you gdnbloggers – after a recent fracas with Flickr, a quick of summary of where online you can catalogue, store & link to your garden photos
Back in the day, I used WordPress to write my blog and moreover used it to upload all my worthy garden photos. The main reason for this was the Android phone WordPress app, which made uploading images a breeze. Then I switched to an iPhone and that version of the app didn't really cut the mustard. So, I switched to Flickr to manage my photos online.
Fast forward to November 2018. Flickr announced they were "changing" Flickr free accounts. In other words, restricting the service so that you'll have to pay if you have over 1,000 photos. In the 3 years of photographing Forest Garden Wales, I have over 2,000 photos. I'm not averse to paying money (£4 per month) but I don't appreciate having the rug pulled from under my feet, as I'd invested so much time in my Flickr set up. Well, never trust a corporation.
Time to find a new home.
I tried Postimage for a while, a free image hosting service. But there's no real way to catalogue your photos and I wasn't too happy about entrusting my photo collection to a free service. Via Netlify I heard about Cloudinary, a paid-for image & video platform with a free tier. The very cool thing is that, like Flickr, you can host full resolution images yet link to lower resolution images on your website. Unlike Flickr, it is designed to host images for your website.
So, I've painstakingly moved 300+ photos from Flickr to Cloudinary, which took hours. But the good news is that I'll be on the free tier for at least a year (with 10GB+ of storage), and then there's a new credit-based pricing system which will keep it affordable longer term.
Here's a handy comparison table:
Service
Pros
Cons
Flickr

Not bad web interface for organising photos
Nice mobile app, easy to upload photos

Not really designed for hosting images, so bit fiddly
Limit of 1,000 photos
£4 per month for pro account
Cost me days of my life migrating photos

WordPress

Nice web interface
Really good mobile app (tho was limited on iOS)
Well supported platform

Not designed per se for organising images, can be frustrating
Requires self-hosting, which can be time consuming &/or expensive
Mobile app was limited on iPhone for uploading images directly

Postimage

Free!
Designed for hosting images, which you link to from your website
Lightweight

Free! Has been here for years but how sustainable?
Good for quick hosting of images, not really designed for managing catalogues of images
No facility to link to different resolution images

Cloudinary

Designed for hosting images
Decent web interface, with organising tools
Free tier, up to 10GB (about 200-300 hi-res photos)
Very easy to create different resolution images

Organising tools not as polished as Flickr
Fairly technical
No mobile app, though web upload easy from mobile