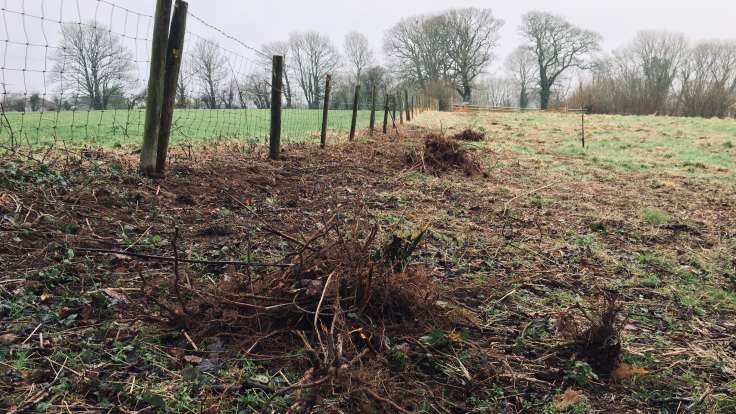 What is the difference between a plant which is a good performer and one which is an aggressive thug?
Some plants in the garden if left to their own devices will just take over, bramble (Rubus fruticosus) being an excellent example. The bramble pictured was dug up from what will be the Northern Hedge in the Ornamental Forest Garden. (I know, bramble is a fantastic wildlife plant but it's in the way of the hedge and will be replaced with a thornless variety!)
The question is, at one point does the low-maintenance, self-sufficient, drought-tolerant get-on-with-it-and-grow plant turn into a garden thug that crowds out all competition?
The whole point of a forest garden is that it is low maintenance, that plants can just get on with it and don't need any special attention once they're established. When Pat Causton from the National Garden Scheme came to visit, she said about my False Ivy (Glechoma hederacea) ground cover "But that's a weed!".
And she's right. But. It depends on what you're doing.
Marietta O'Byrne wrote the book A Tapestry Garden and in conversation with Margaret Roach talks about plants that are amenable to move, with an easy root system. The forest garden stalwart Vinca minor is not one of those plants. "Once you have vinca, deep-rooted, you've got it. You want to get rid of it? You never will."
You also have to think about where you are. For example, Purple Loosestrife (Lythrum salicaria) is a fantastic pollinator plant native to the UK. But Ken Druse in his book The Passion for Gardening is writing about the US: "wherever Lythrum salicaria is on the loose, native plants can't keep a foothold".
Again, it depends.
So, watch out for invasive plants and be sure that you can contain a vigorous plant, such as a mint or a running bamboo. Apart from that, I think there is a lot of sucking and seeing on this gardening journey, which is what Wade Muggleton describes in a lovely post What Crops to Grow & What to Cull (spoiler: the Goji Berry got the chop).