Where leafless oaks towered high above, I sat within an undergrove
Of tallest hollies, tall and green; A fairer bower was never seen.
~ William Wordsworth
Curved self-binding slate paths, seating areas and wildlife friendly gabions, with native and mostly edible planting, in an east-facing rear garden of a new eco-house, with a grove of oaks beyond a steep slope.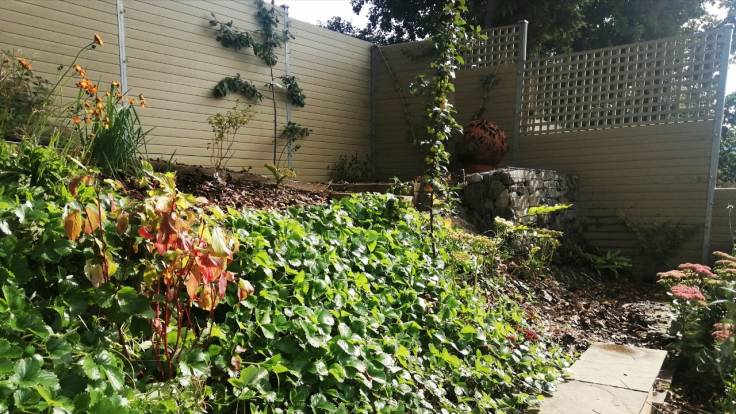 The space is quite limited, so I have made good use of the fencing for espaliered fruit trees and cultivars of native honeysuckle, and climbing roses up the mature oaks. For the two seating areas and roundwood framed den, I created two retaining walls gabions, filled with locally sourced stone. For additional habitat, there are two gabion pillars, topped with bee logs and a slate roof.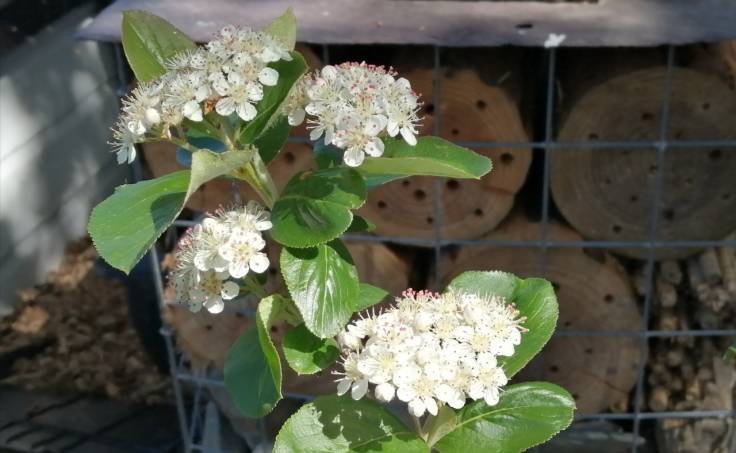 The den has been made for the grandchildren, and is tucked away behind the outdoor office, secret yet accessible. It is designed and built by David Hunter, and is made out of Larch, with a roundwood frame and clad externally.
I have used a combination of non-native edibles, such as the Apple, Plum and Asian Pear trees, Hosta 'Elegans' and H. 'Halcyon', and the Aronia and Blueberry 'Northland', combined with native wild flowers such as Devil's Bit Scabious, native ferns like 'Hart's Tongue' and native cultivars such as Honeysuckle 'Graham Thomas'.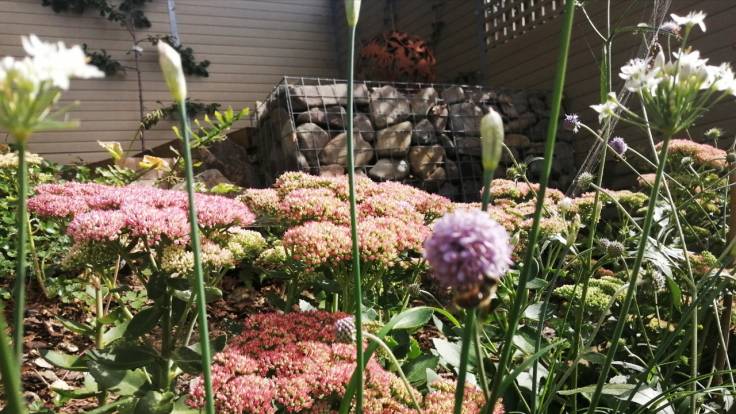 I had originally installed a half-barrel pond for wildlife, with native aquatic plants. Unfortunately, the leaf fall from the Oaks has swamped the pond, so I have replaced it with a stone pile supporting a Sycamore log. On top of this will be steel water bowl, which can be easily cleaned and refilled, and still provide water for birds.